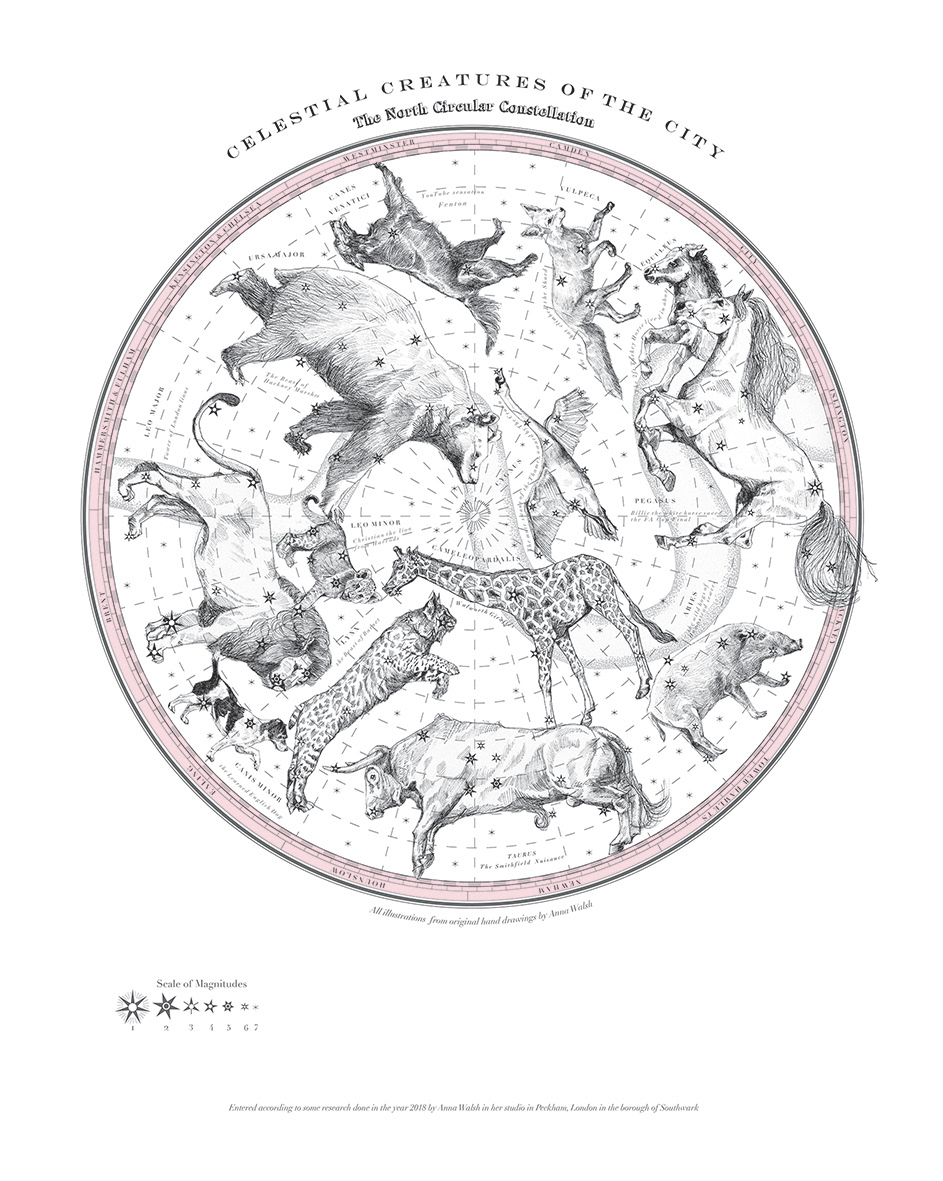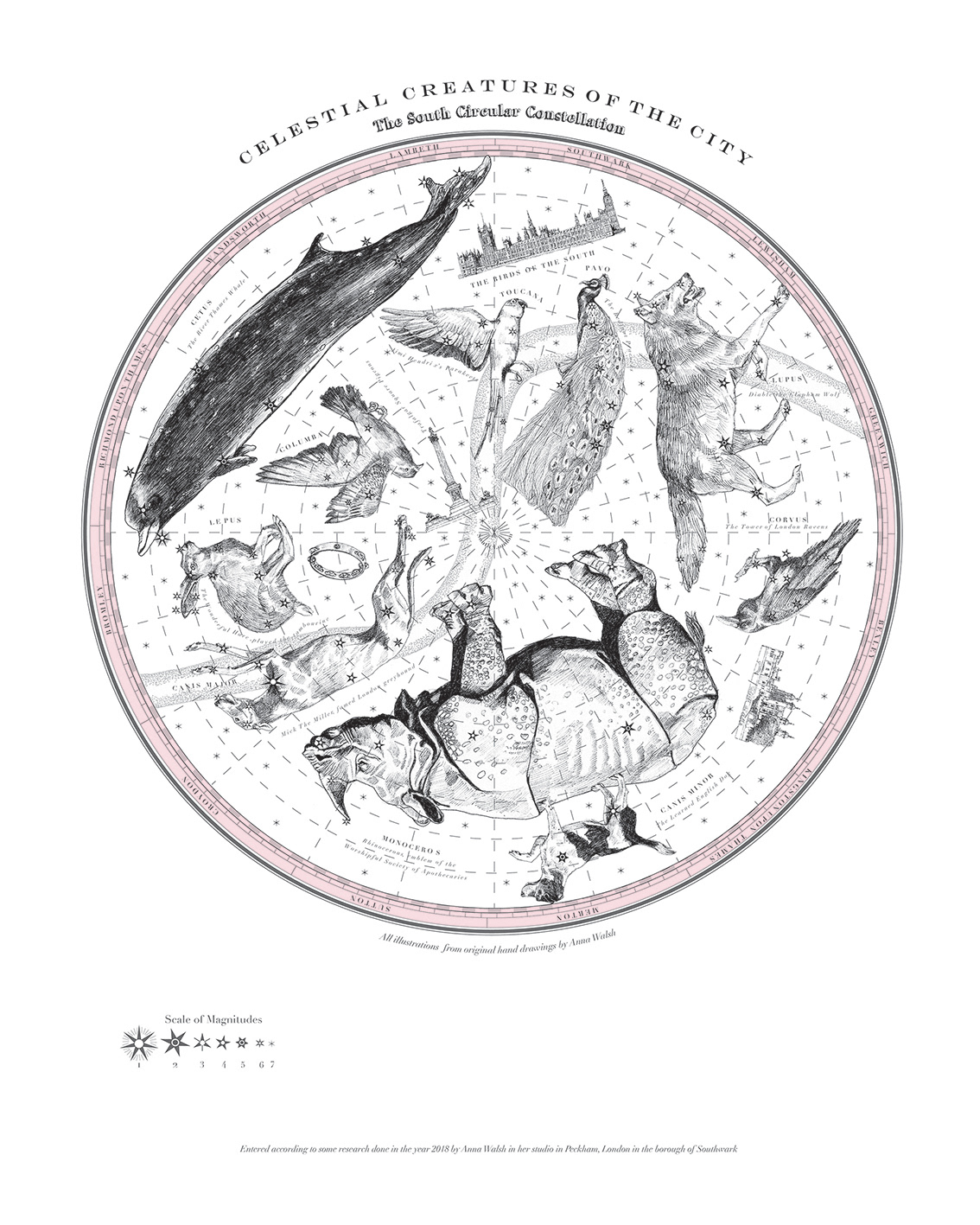 The North Circular Celestial Menagerie /The South Circular Celestial Menagerie
These prints feature animal myths and legends of London in celestial style maps of the skies. 'Constellations' featured include  'Cetus' (Sea Monster) - the River Thames Whale; 'Lynx' -  The Beast of Barnet; 'Canes Venatici' (The Hunting Dogs) – Fenton the YouTube star who chased deer through Richmond Park; 'Cameleopardalis' (Giraffe)- The Walworth Giraffes, among 16 altogether. (see below for individual prints of the constellations).

Archival print on Hahnemuhle German Etching 310gsm, 40 x 50 cms
16 individual prints featuring animal myths and legends of London as star constellations. The 16 images can be displayed together, as below, to create a single wall art feature. The ghost image of the River Thames in the background of many of the images links them all together (inspired by how the milky way is often depicted in antique star constellation prints)

1)
Cygnus and Vulpecula (Swan and Fox),
featuring the queens swans and the fox who climbed the shard
2) Ursa Major (The Great Bear),
featuring the bear that was spotted on Hackney Marshes in the 1980s
3)
Lynx
, featuring The Beast of Barnet, a lynx that was discovered in a Cricklewood garden in 2001
4)
Cameleopardalis (Giraffe)
, featuring the giraffes of Surrey Zoo, one of London's first zoos, once in Walworth.
5) Pegasus and Equuleus (Pegasus and the Little Horse)
, featuring Billie the white horse from the 1973 FA cup final, and the Little Turkey Horse, only 2 ft tall, viewed by permission of the queen in the 1700s
6)
Canes Venatici (Hunting Dog)
, featuring Fenton the dog, who chased deer through Richmond Park, becoming a YouTube star in 2011
7)
Leo and Leo Minor (Lion and Little Lion)
, featuring the lions once kept in the Tower of London, and Christian the lion cub, bought from Harrods pet department
8)
Aries (Ram)
, featuring the wild hogs thought to live in Hampstead sewers (kind of ram like?!)
9)
Corvus (Crow)
, featuring the ravens that live in the Tower of London
10)
Monocerous and Canis minor (Unicorn and small dog)
, featuring the rhinos of the Worshipful Society of Apothecaries London and The New Chien Savant, a learned dog who could knew Latin and Greek
11)
Canis Major and Lepus (Large Dog and Hare)
, featuring Mick the Miller, London's favourite greyhound, and The Wonderful Hare who entertained Londoners in the 1780's by playing the tambourine
12)
Taurus (Bull)
, featuring the Smithfield Nuisance, a bull who escaped and caused havoc in Smithfield Market in 1849
13)
Tucana and Pavo (Toucan and Peacock)
, featuring London's parakeets, alleged descendants of one released by Jimmi Hendrix, and the Bedfont Peacocks, 2 topiary peacocks outside a church in Bedfont
14)
Lupus (Wolf)
, featuring Diable the wolf found in a Clapham garden in 1961
15)
Columba (Dove)
, featuring the Trafalgar Square pigeons, driven away by Ken Livingston in 2003
16)
Cetus (Sea Monster)
, featuring the whale spotted swimming up the River Thames in 2006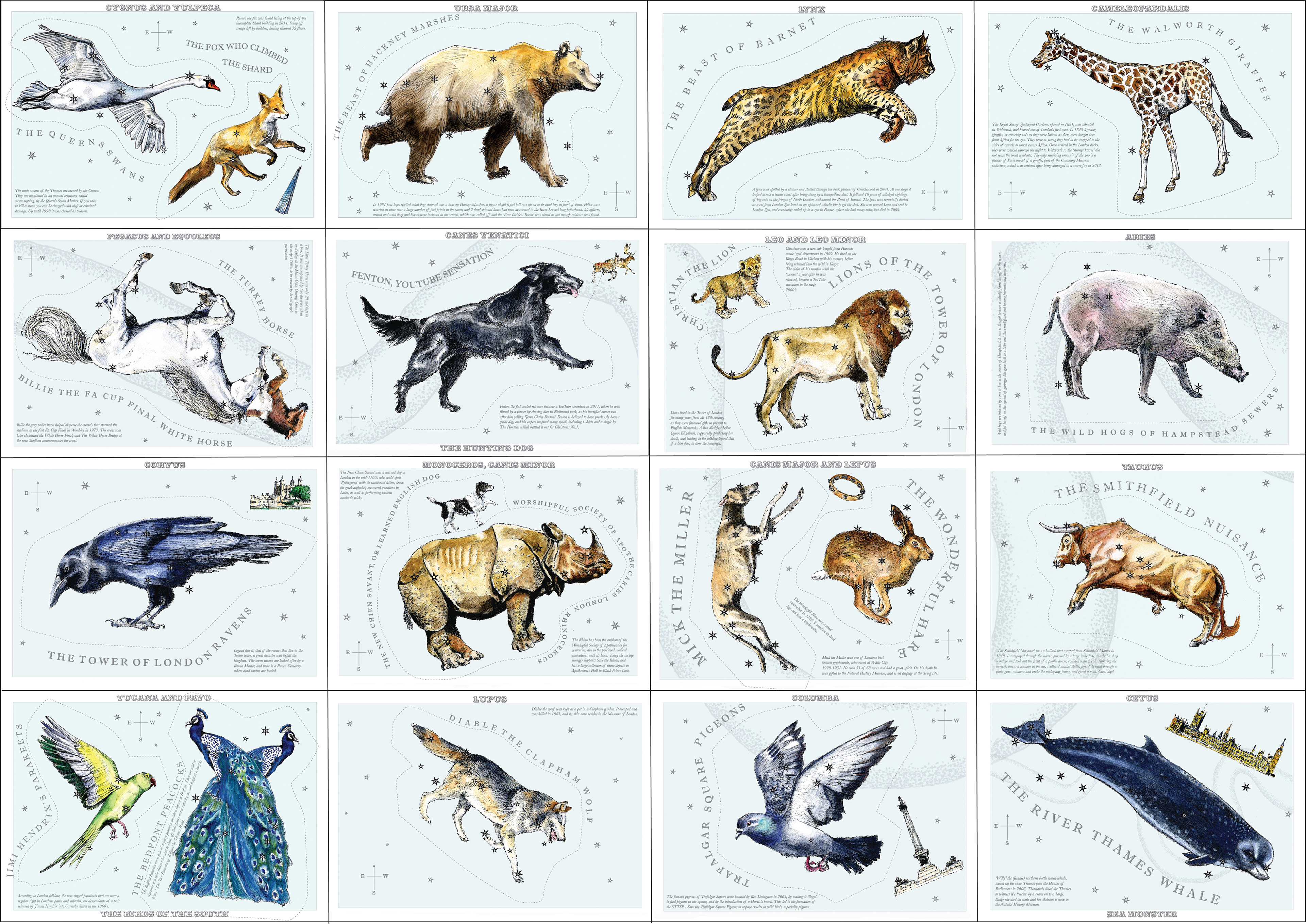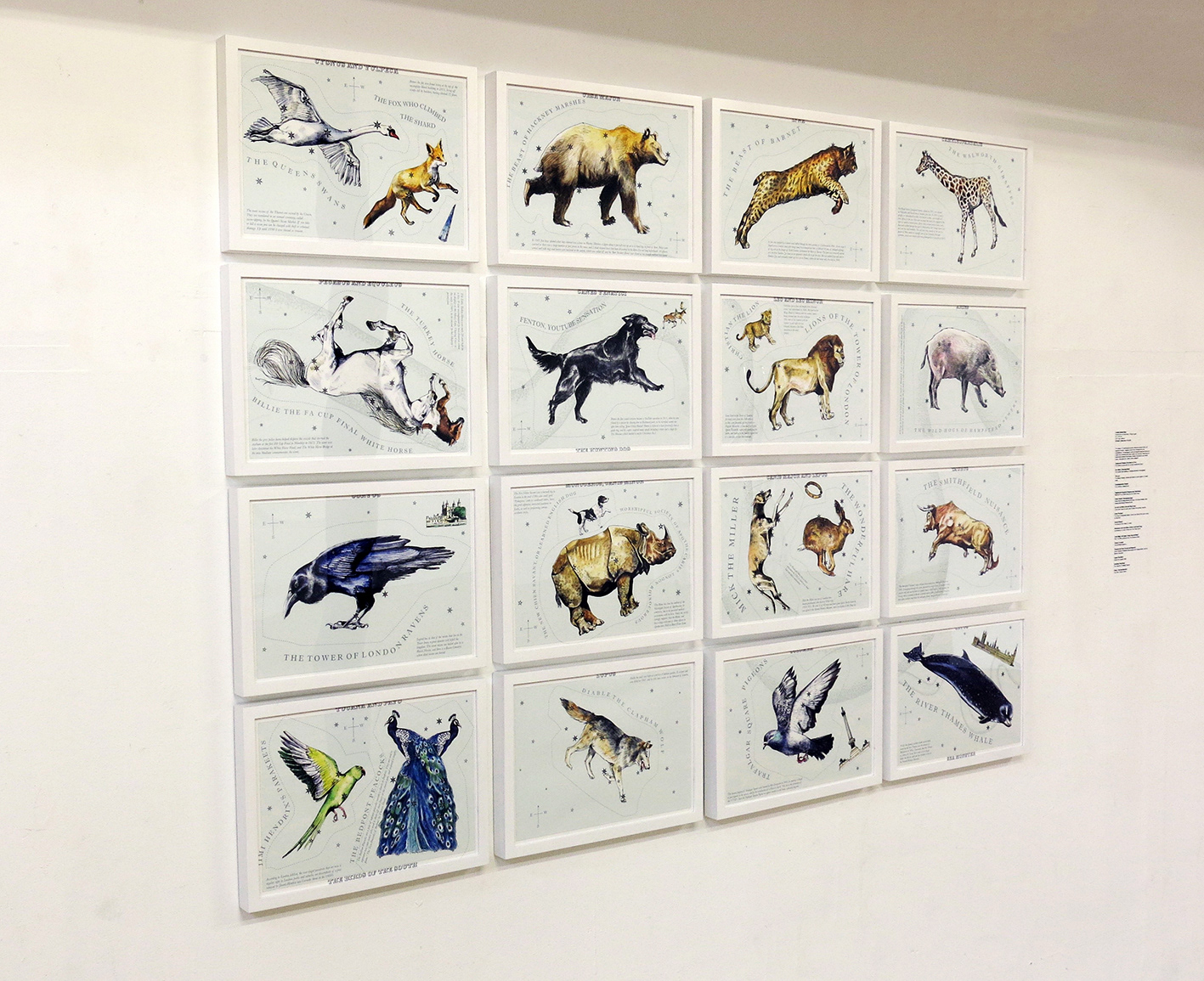 Big Cats of Britain is a tongue in cheek guide to mystery big cat sightings in the British Isles. The desire for excitement in the tedium of everyday life has lead to various legends being born of wild beasts roaming our (usually) quite and peaceful countryside, terrorising the neighbourhoods . Or perhaps it was just a plastic bag. Created using original hand drawn illustrations.
High Quality archival Inkjet Print on High Quality Archival Paper 2017 40 x 50 cms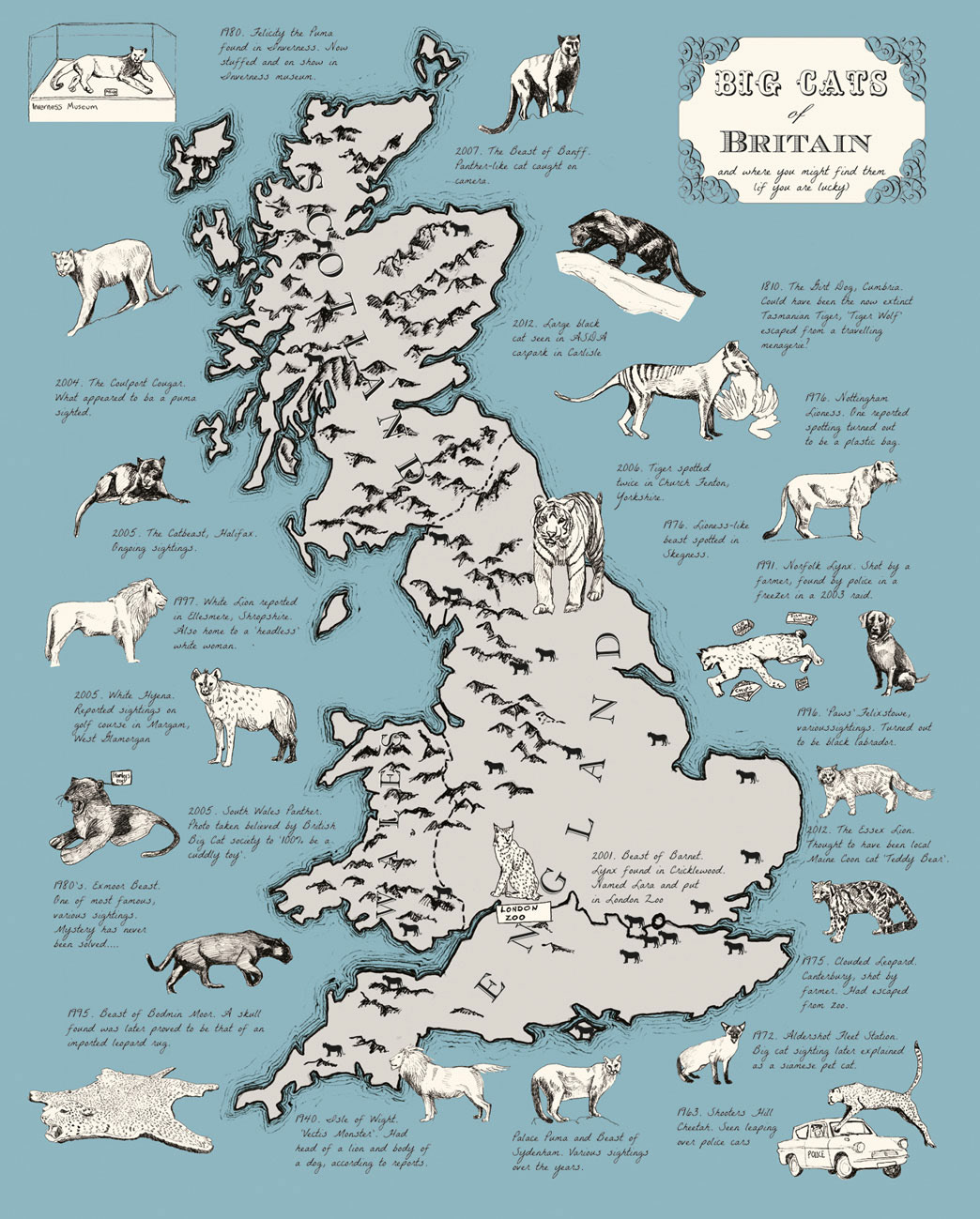 This wholly unscholarly, meticulously hand drawn, cat-o-graphic map illustrates the history of felines in the capital. Londoners, along with the rest of the UK, love their cats and the city is teaming with cat related stories, works of art and historical anecdotes (as well as ACTUAL cats).  Having trawled many books and the internet (the home of cat facts and fiction), as well as the streets of London, I have picked out some of my favourite quirky cats of the capital to illustrate and create the purr-fect plan.
High Quality archival Inkjet Print on High Quality Archival Paper 2017 59.4 x 42 cms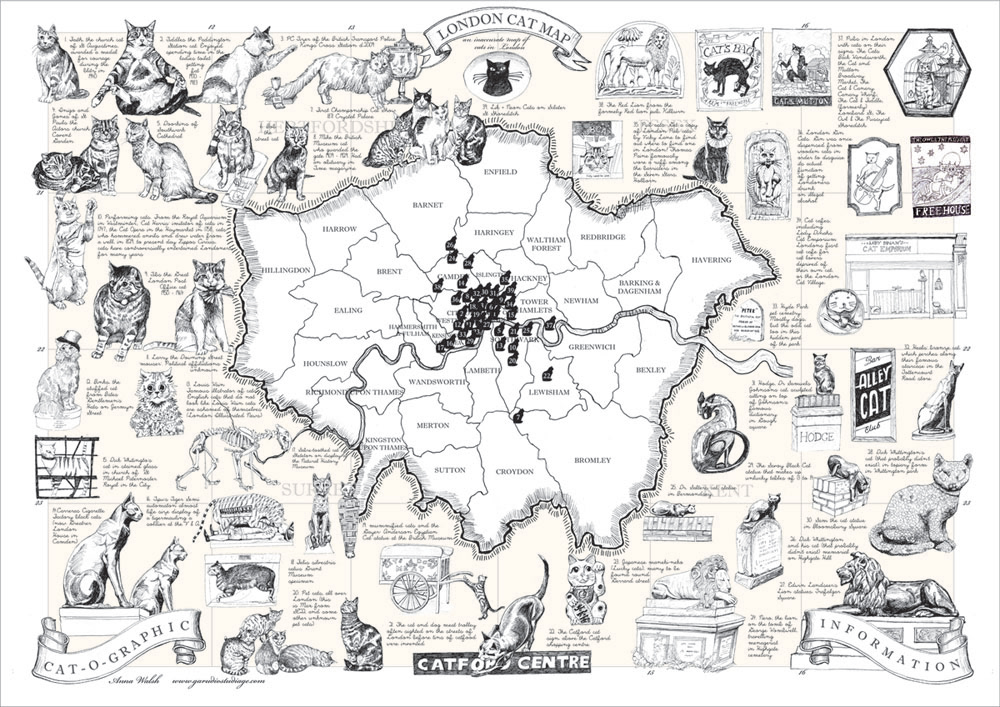 A map of all things cat in SE15 (this may not quite be true, as least some things cat in SE15).This originally hand drawn print provides a snapshot of cat life in Peckham in 2011. Some cats are still there, some have moved on..
Poster print 42 x 59 cm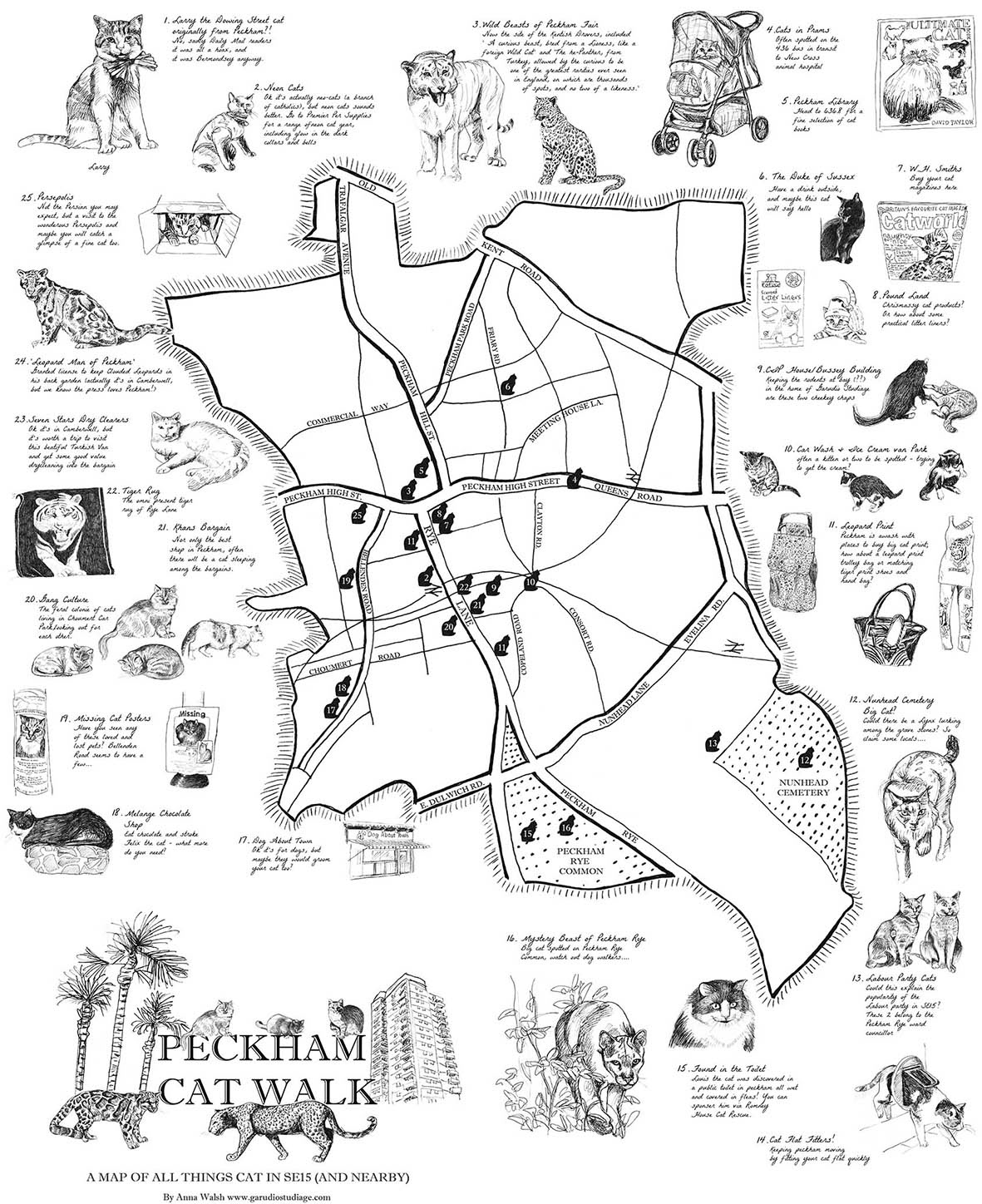 A species is a natural phenomenon, a breed is engineered by man, and none more profoundly than the dog. No other species has been used to create such a huge variety of odd looking creatures, and yet each has its own individual character and appeal, much like the different areas in London. From the affluent Knightsbridge to the edgy east end, the suited City to the suburban Crouch End, different postcodes attract different residents and so build up its unique make-up

This tongue in cheek map illustrates where each dog 'lives' in London. It is inspired by traditional map drawings, especially of London, where the river Thames more often than not takes centre stage, splitting the city in half with its curvaceous, winding form. Each of the 35 dogs is placed in their postcode area, with an 'explanation' to the sides giving a brief description of each breed. Much of the text is taken from the book 'Champions Dogs of the World' by Richard Hamilton Glyn, as Walsh found the descriptions of the dogs often uncannily describing the inhabitants of certain areas….
Archival Giclee Print From Original Hand Drawings, On Soft Textured Natural White 315 Gsm Paper 84.1cm x 59.4cm 2011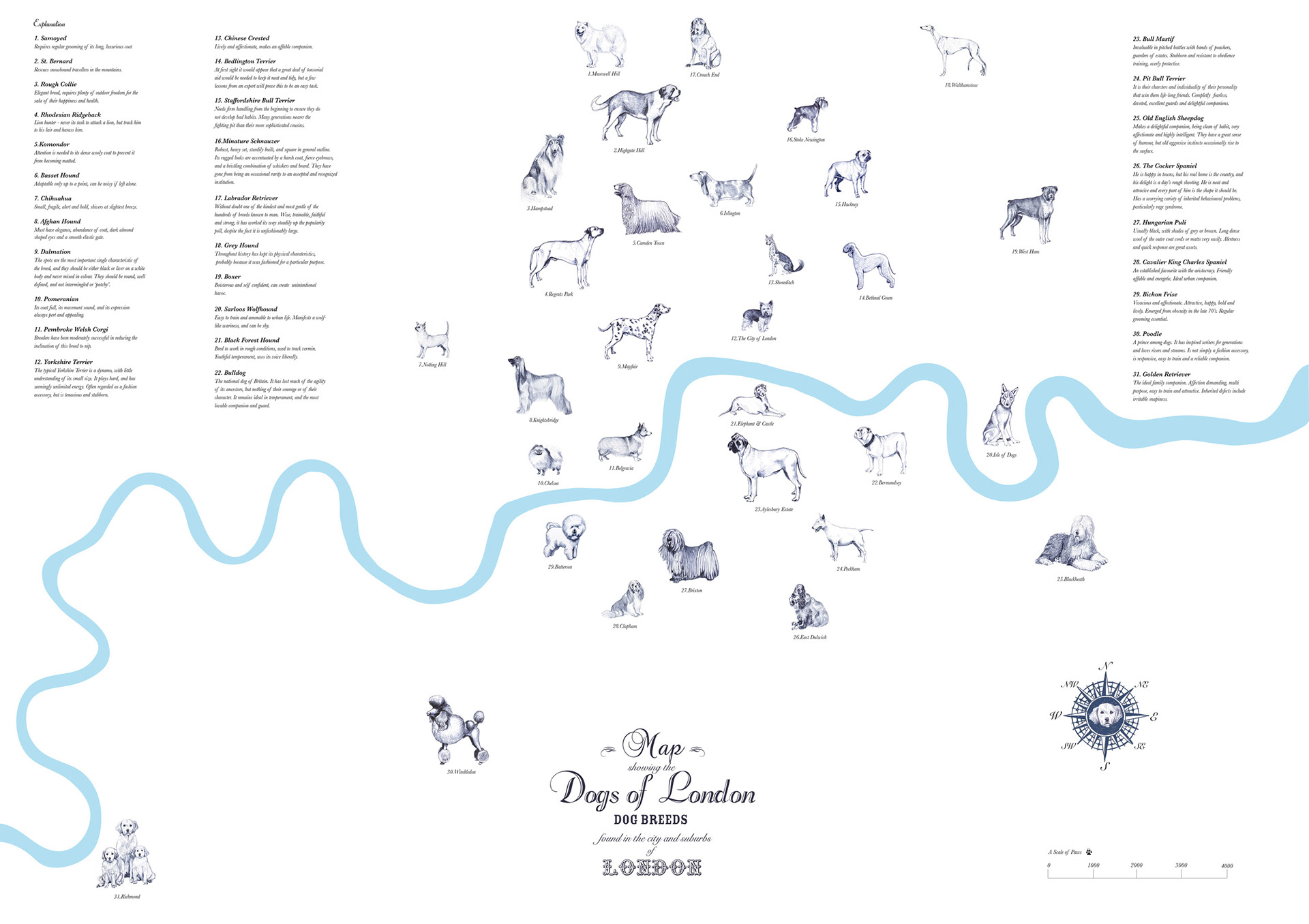 Champion chaffinches was a cult activity with working class bird fanciers in the east end of London in the late 19th century. It took place in pubs where wild chaffinches that had been captured were pitched against each other in singing contests. The winner was the bird that sang the most complete tunes during the 15 minute matches. Shoreditch Bobby and Kingsland Roarer were actual competitors, the rest are imagined other participants! (source 'Beastly London' by Hannah Velten). The style is based on collectable cigarette cards, which came free in cigarette packs, and are still popular decorations in English pubs today.
Printed on Bockingford inkjet watercolour 190g paper.  Size - 420 x 297 mm
London Fancy Canaries
'London Fancies' is based on the London Fancy Canary, a unique variety of canary bred in London in the 19th century, deep orange-yellow with jet black wings and tails, which became extinct during the 1st world war. Canaries were hugely popular with the working classes in London in the 19th century. One journalist described them as being sent to 'rejoice the hearts of us dwellers in cities' with their 'sprightly movements' and their 'joyous and irrepressible notes of ecstasy' (source 'Beastly London' by Hannah Velten).  This print aims to replicate that feeling, lifting the hearts of us city dwellers, inspired by natural history illustrations

High quality archival print on , with hand painted gold paint lettering. 40 x 50 cms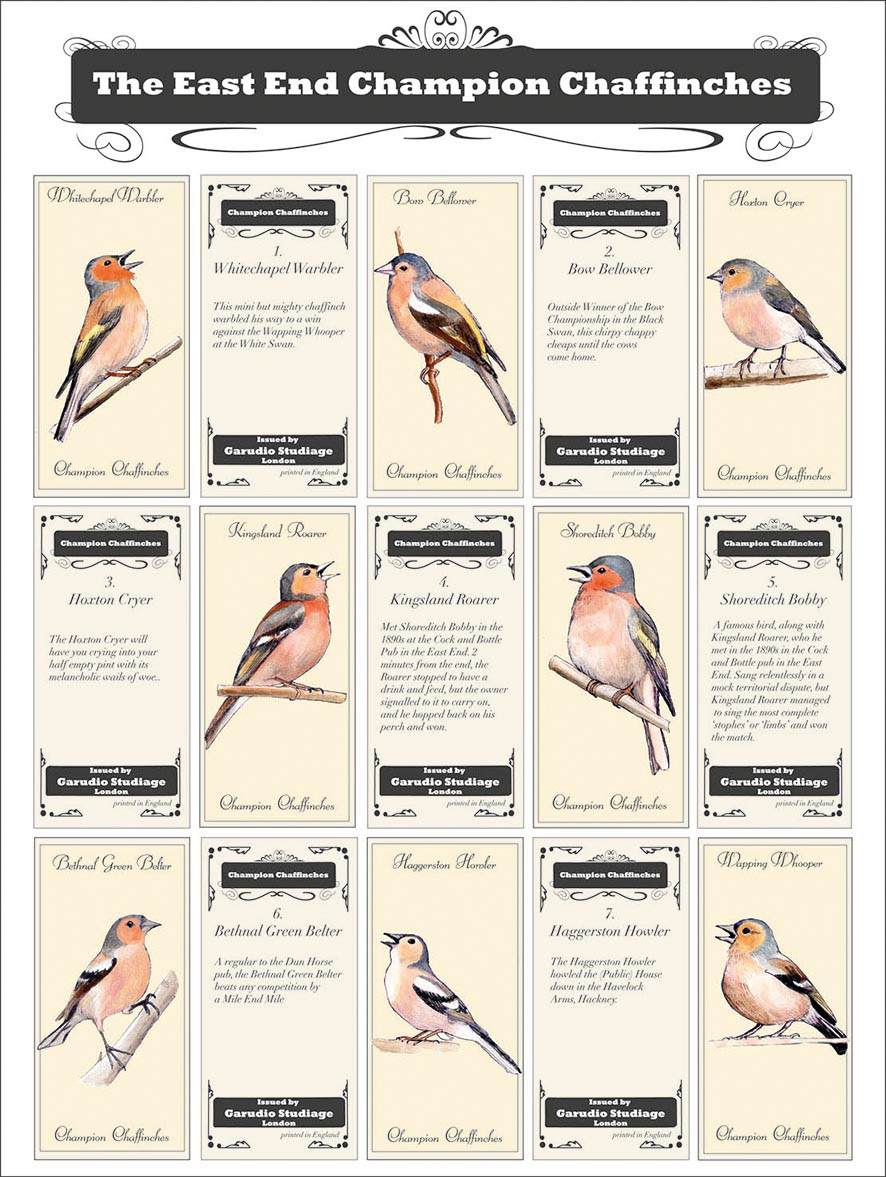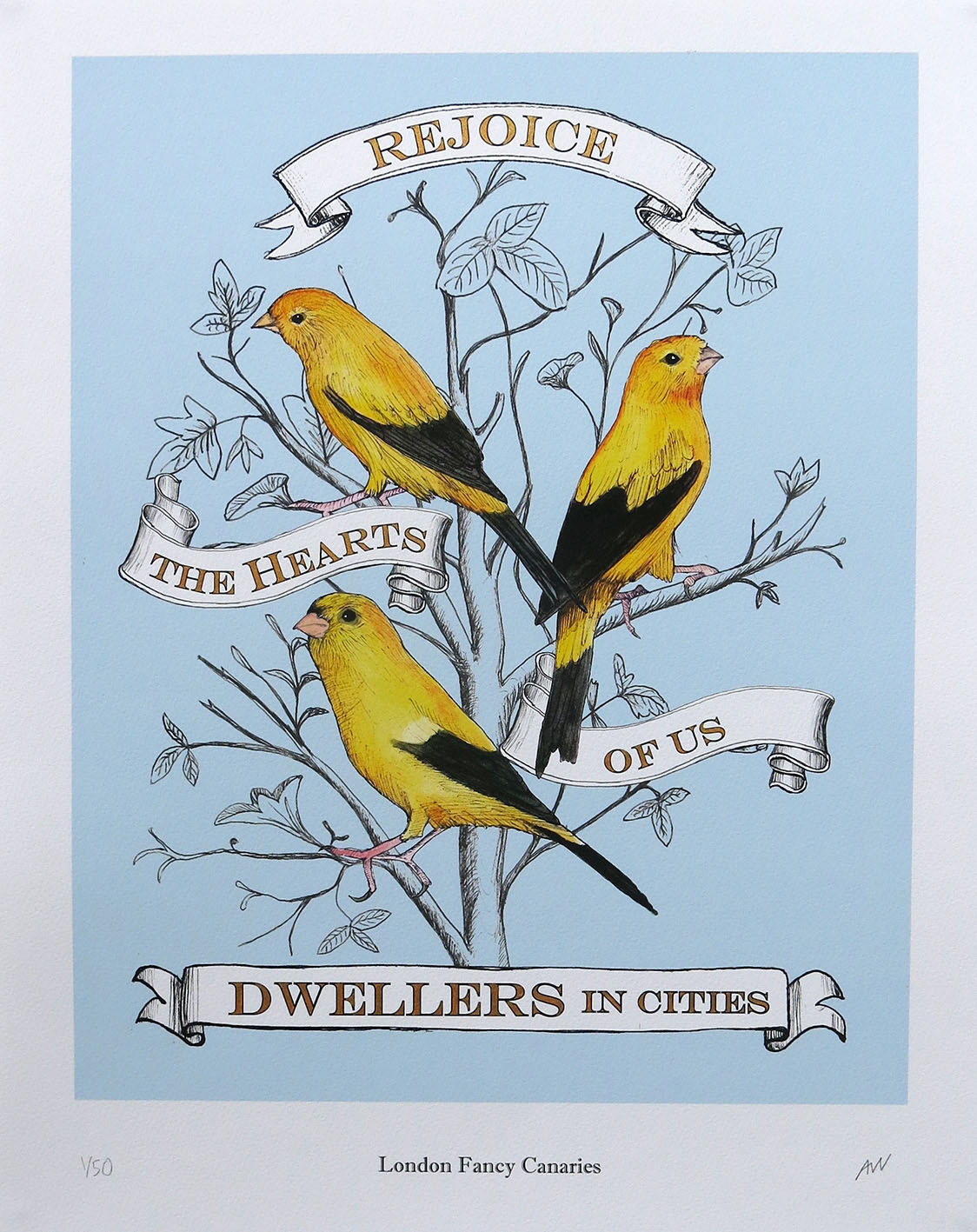 Thought owls just sang twit twoo? Think again. This illustrated print shows owl voices are way more varied than Simon Cowell's record collection. Owl voices originally written by Wouter van der Weyden and Howard Ginn.

Printed on Bockingford inkjet watercolour 190g paper. Size - 420 x 297 mm
Budget Budgies
This bizarre yet beautiful print spots the similarities between budgie breeding and budget high street brands, creating a wonderfully exotic display of feathered friends
Printed on Bockingford inkjet watercolour 190g paper. Size - 420 x 297 mm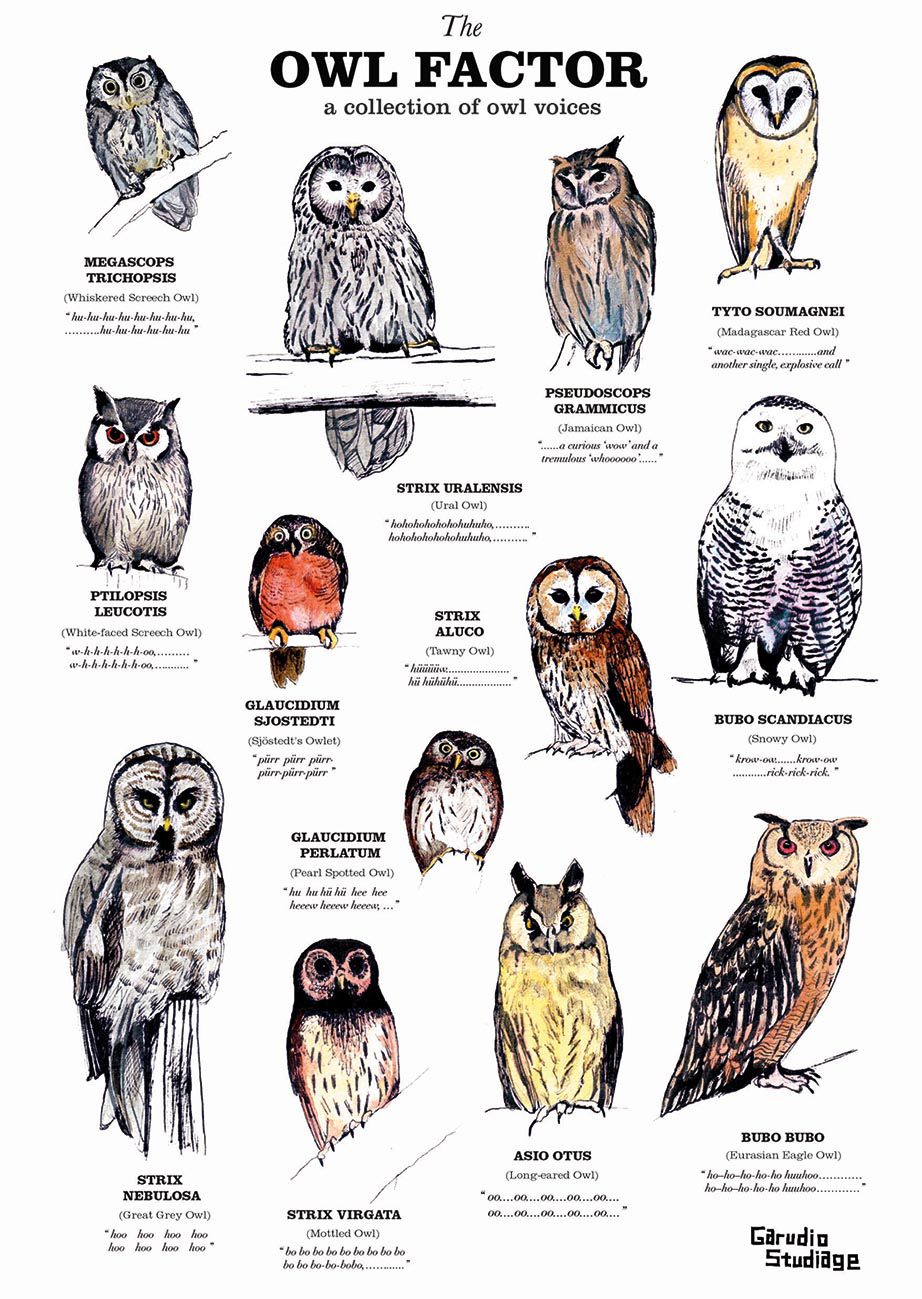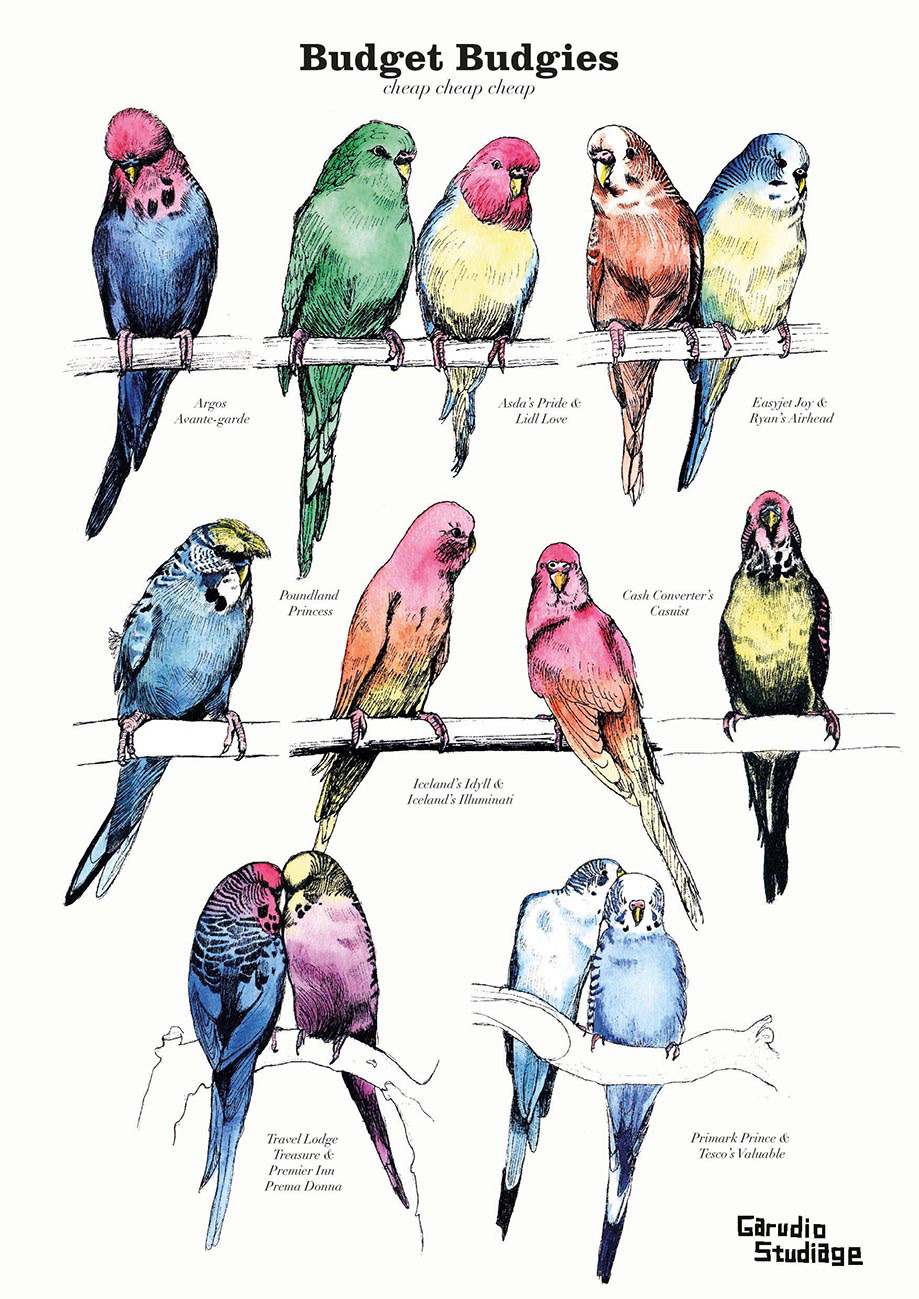 What did the Victorians think of dogs? Find out in this beautifully hand illustrated and original print of different dog breeds. The text is taken from a book of dogs from Victorian times describing different breeds in a delightfully eccentric  manner - 'The pug market is over stocked' 'You may know a gentleman by his horse his hawk and his greyhound' etc

Giclee  print on matt decor smooth 210 gsm paper. Black print on off white background. 40cm x 30 cm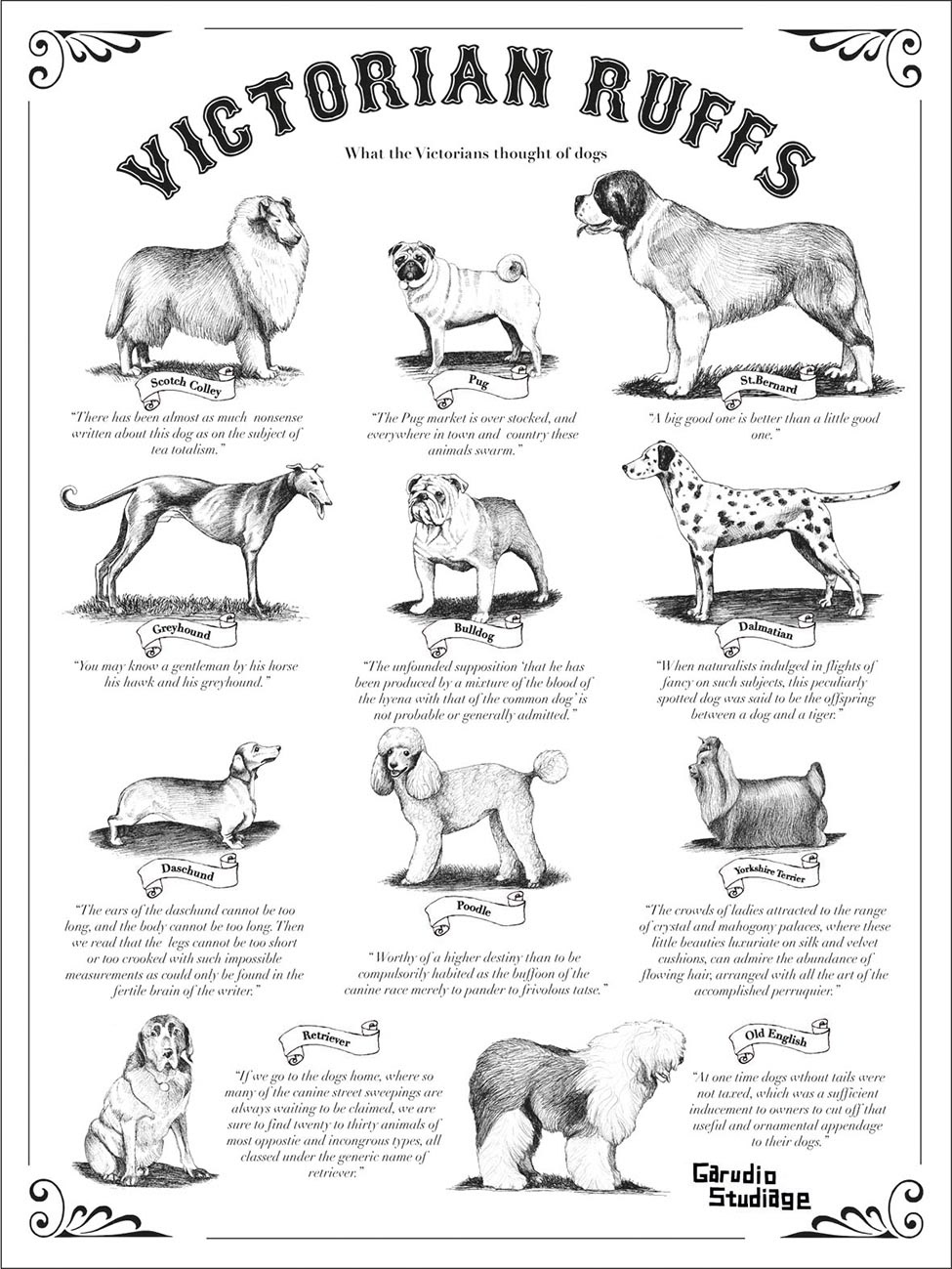 Inspired by antique star constellation maps, Canis Major and Canis Minor come together in this original illustrated dog starry print.
Printed on Bockingford inkjet watercolour 190g paper. Size - 420 x 297 mm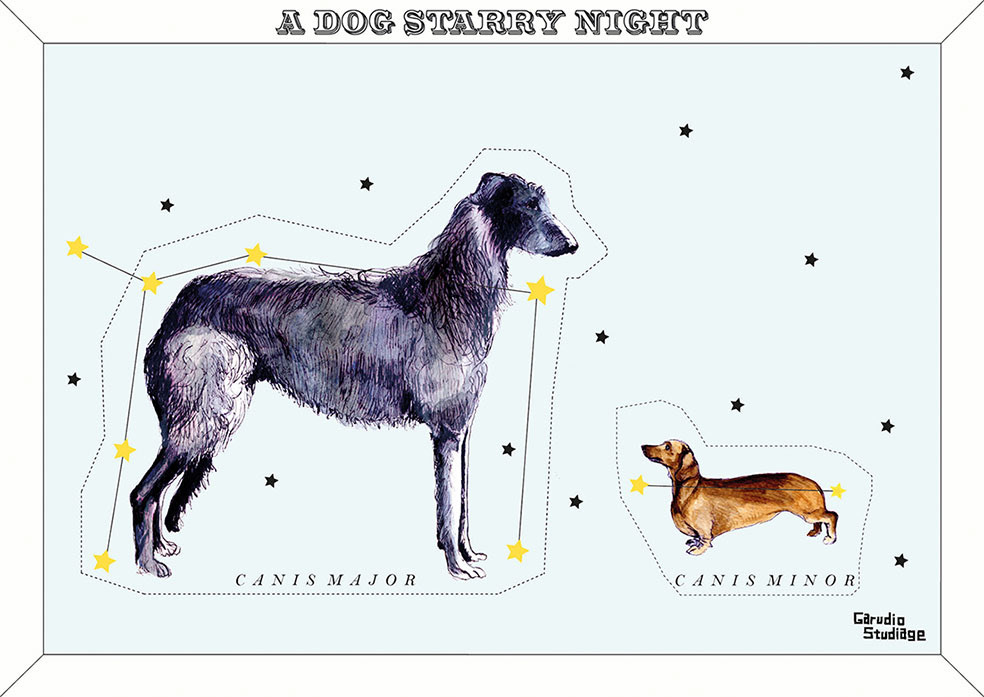 This piece was for an exhibition in Aarhus, Denmark, organised by A
Secret Club
, called Expedition No. 2: To The North! Each artist was given a different part of the 'story' to illustrate. Mine was all about the 6 Legged Bear...
'The Six Legged Bear is cross between a real fear and a superstition. It is said to come up from the south and while it isn't aggressive, it's very destructive due to it's size, strength and clumsiness - it is said that if a The Six Legged Bear walks through your camp, not a single thing will remain whole, everything will be broken.'
My piece was influenced by antique maps, including star constellation maps(as it is a 'myth'), particularly as I had recently visited an exhibition on antique world maps at the
American Museum in Britain
(in Bath), which had had some particularly fine examples.
Larger than life film characters are squeezed together onto this print of jolly giants.
A short print about short people (well specifically film stars and characters). Illustrated short film stars in order of their height…. will your favourite make it to the 'short list?'

Both prints 420 x 297 mm