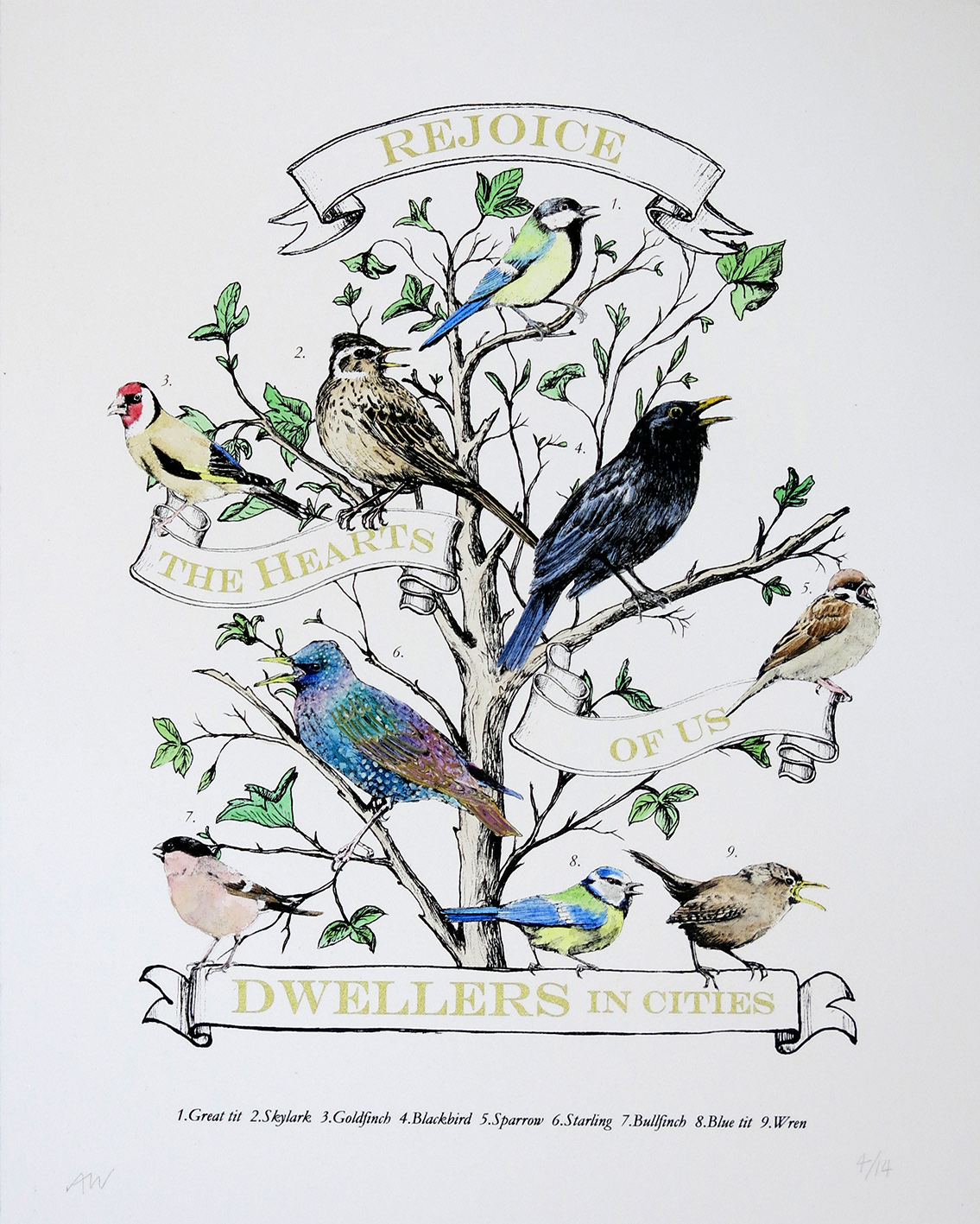 'Rejoice The Hearts of Us Dwellers In Cities' is a quote from a journalist describing why Londoners kept canaries in the 19th Century. During lock-down, the sounds of birds singing were one of the small joys to be had in a garden-less London flat, and I was reminded of this quote, and how it seemed to take on particular relevance during this time
.
This 3 colour screen print is inspired by the 1850 engraving 'Monster Soup commonly called Thames Water' by William Heath, a satire of a microscopic examination by Arthur Hassell of the water supplied to the inhabitants of London portraying the 'monsters' found in a drop of water from the Thames. Just 50 years ago, the Thames was so polluted it was declared "biologically extinct", too dirty for anything to survive there. But sightings of various marine mammals and other species over the last few years confirm that the river is springing back to life.
There have been regular sightings of harbour and grey seals, dolphins and harbour porpoises, and of course the ill-fated journey into the Thames by the 'River Thames Whale' (northern bottlenose whale ) in 2006.
3 Colour Screen Print On Somerset Velvet 250gsm Antique Paper, 2016, 40 x 50 cms.
                                                 The Stripe Set and

The Spot Set

(below)
This piece is about classification and order of nature and animals by humans. Although the style of drawing and addition of text alludes to traditional natural history illustrations, the categorising (striped animals) and composition of the animals is created in a more folk taxonomic manner, making a more unusual visual form. Folk taxonomies are distinguished from scientific taxonomies in that they are more associated with social knowledge and everyday speech. Screen Print on Somerset Velvet 250gsm Soft White Paper, 2017/2019, 40 x 50 cms. Available to buy on Garudio Studiage shop here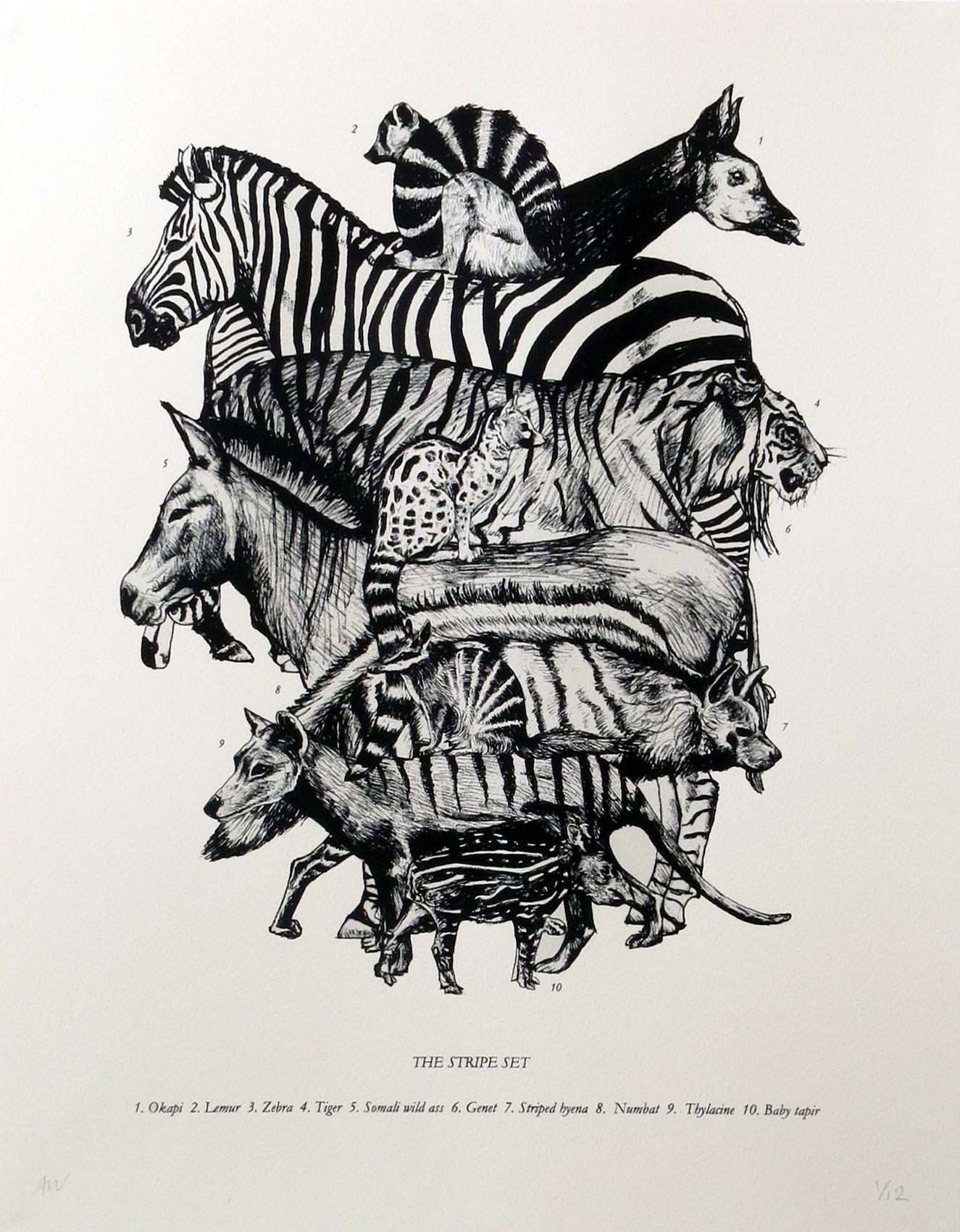 Intricate 5 colour screen print of pink winged beasts
Screen Print On Somerset Velvet 250gsm Antique Paper, 2019, 40 x 50 cms.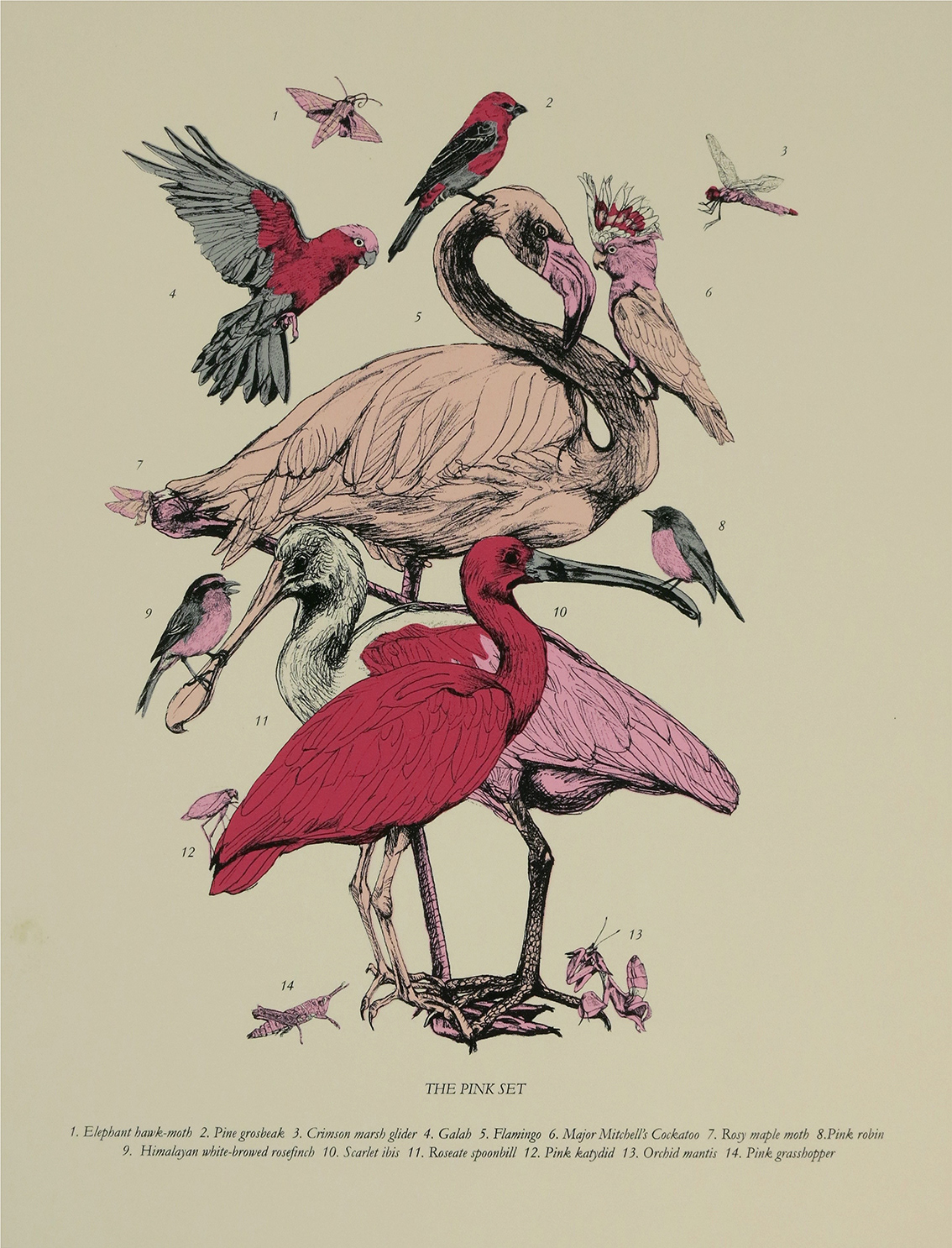 Celestial Creatures of the City
(below)
Screen print 70 x 50 cms

Designed exclusively for Woolwich print Fair Editions, available to purchase
here

I was asked by Woolwich print fair to design a print for their Editions, after applying to take part in the 2019 fair. The print is a combination of the 2 digital prints, North Circular Celestial Menagerie, and South Circular Celestial menagerie, showing the 'North' and 'South' views of the celestial skies, incorporating myths and legends of London animals.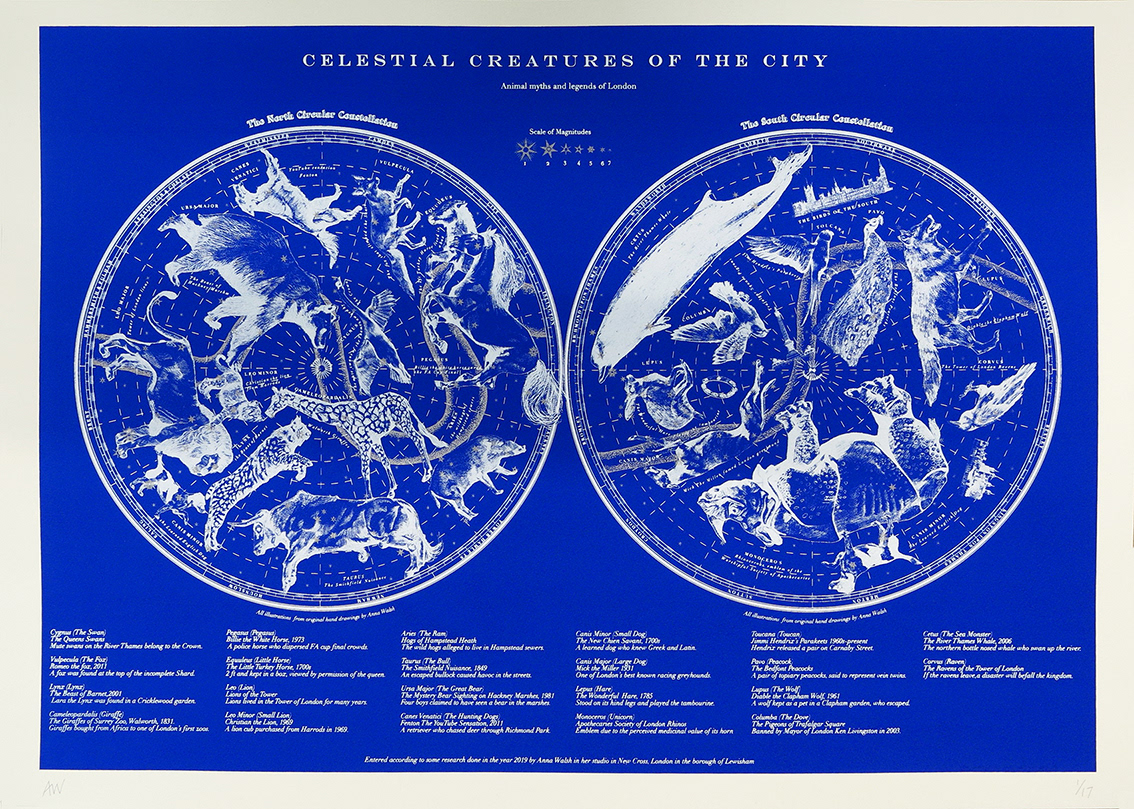 In his book 'Lore of The Unicorn', Odell Shepard describes the Unicorn as being interesting 'almost entirely as a denizen of "The Monarch Thought's Dominion"' i.e. as a creation of man's imagination.

There are many animals caught up in the unicorn legend, which have been commingled over time to produce various descriptions of the mysterious beast. These include the rhinoceros, the ibex, goat, ox, narwhal, okapi, and even the orangutan! The story of the unicorn has been entwined with those of real animals, most just as strange and fascinating themselves, and reveal just as much about us and our engagement with the natural word, as they do about the unicorn itself. Here are a few of them represented in this print.

Each of these limited edition screen prints have been individually hand coloured with water colours, alluding to traditional natural history illustrations to illustrate a very unscientific history of nature.
Black Out Line Screen Printed on to Hahnemuhle 300gsm Etching Paper, Hand Coloured With Water Colours. 2009. 53.5cm x 78.5cm.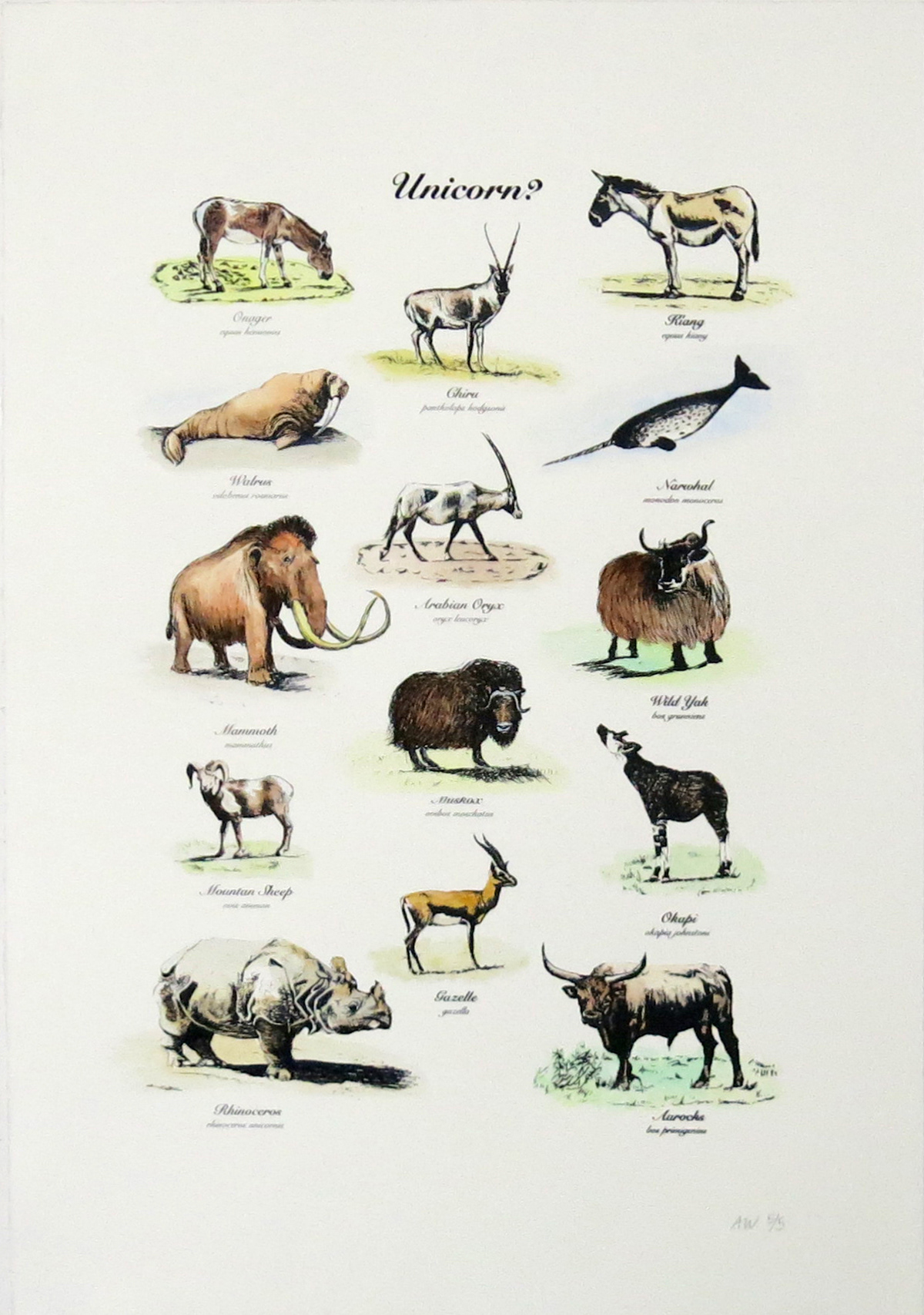 A species is a natural phenomenon, a breed is engineered by man, and none more profoundly than the dog. No other species has been used to create such a huge variety of odd looking creatures, and yet each has its own individual character and appeal, much like the different areas in London. From the affluent Knightsbridge to the edgy east end, the suited City to the suburban Crouch End, different postcodes attract different residents and so build up its unique make-up.
This tongue in cheek nomenclature of the areas of London and the dogs you might find there is a playful take on social stereotypes and local observations.
Screen Print On Bread And Butter 270gsm White Paper 50cm x 70cm. Also available as a tea towel.